The Panorama Hotel is ideally located on the slope side of the Venetian Castle right in the heart of the old city of Naxos. The Panorama uniquely combines the peacefulness and tranquil view of the Aegean Sea with the exciting nightlife that fills the quaint side streets of the traditional town.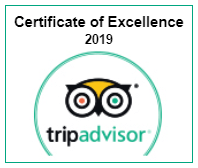 Home away from home - with a view!
Our comfortable rooms in the old town of Naxos offer a magnificent view of the Aegean Sea.
The hotel is built in accordance to the traditional architectural style of the Cycladic islands. The hotel features 13 rooms and small suites. Beautiful fuchsia-colored plants set in contrast against the bright white hotel walls greet visitors at the entrance.
Its fabulous location, just a breath away from Crispi Castle, the Archeological Museum, the Ursulines School, the Old Marketplace, the island's small tavernas, the port, and Grottas beach, gives its guests the opportunity to explore and to be a part of life in Naxos both then and now. Warm family hospitality welcomes Panorama guests into a relaxed atmosphere geared to offering services that will make their stay both pleasant and enjoyable.